Power Supply Relay Unit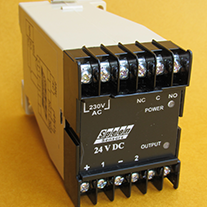 We among leading manufacturers and exporters of best quality Power Supply Relay Unit that are manufactured using precision capacitors, inductors, transformers and other components. Our products exhibit greater performance and the switch dissipates less power in both the states. Also, the power conversion can be obtained with minimal power loss and higher efficiency. We offer the High Power Dc Sensor Test Units that are high in performance, reliable durable that ensures longer service life.

Product Details
Such type of power supply units can be installed on DIN rail TS-35/7.5 or 15. Our entire range is UL 508(industrial control equipment) approved. A LED indicator is present for the indication of power on. The AC input range is easily selectable by switch with fixed switching frequency of 55 KHz. These instruments have complete set of protections including short circuit, overload, over voltage and over temperature. Cooling is provided by free air convection.
The longevity and affordability makes these products the highly appreciated and accepted power supply units available in the market. We aim at satisfying our customers by supplying best quality products within the scheduled time frame.
Contact us