Temperature Indicator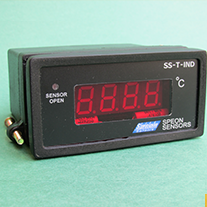 Speon Sensors is one of the prominent manufacturers and suppliers of high precision Temperature Indicators that are simple in operation. These devices are most commonly used in various industries including food, pharmaceutical, medical etc for monitoring the temperature of different goods. The temperature is clearly indicated on the device when being exposed to variable temperatures whether it is too cold or too hot.

Product Details
We manufacture and supply complete range of Digital Room Temperature Indicators that are based on digital technology. These are an ideal choice for electric furnaces, process control and production industries. It is necessary to record the temperatures of some goods at regular intervals to ensure hassle-free processes. We offer a wide array of temperature monitoring products that meet the highest standards of quality. The products are rigorously tested by quality check professionals to ensure flawless delivery at clients' door.
If you are looking for accurate Room Temperature Indicator, you can contact us to place your order. Our company is well recognized for its affordability and accountability. You can place your order online for your desired instrument.
Contact us